Magic Leap Inside Sales Support
Project Summary
This project contains sales collateral, instruction, and pricing information for makeSEA Content Management and Collaboration Platform.
This project is available by invite only. To obtain access please send a request to marcom@makesea.com.
Project Details
makeSEA is an AR/VR/XR Content Management and Collaboration Platform designed specifically for Magic Leap and is an accelerator for any custom Magic Leap application.
makeSEA makes publishing customer-relevant AR experiences to Magic Leap and other audiences as easy as social media posting, for a fraction of the cost and effort.
makeSEA is a Spatial Content Management System (Spatial CMS), used to store and organize content and connect users in AR/VR/XR for collaboration and sharing. It is ideal for mixing and publishing real-world content already being produced for everyday workflows that can be communicated more effectively using Magic Leap.
Catapult is makeSEA's cross-platform co-presence and collaboration app for Magic Leap and other XR devices. Catapult connects users for collaboration and sharing using projects and content stored in makeSEA. It
can be used to create live-hosted and pre-staged spatial experiences for their audiences to visit, and link the spaces together with Spatial Gateways to take them on a journey, teach a lesson, sell, or instruct, etc.

Catapult allows publishers to layout Project Spaces in real-time, while in the XR experience itself. This is

a

power

f

u

l n

ew way to host and engage audiences live, or to stage

experiences

for audiences to visit on their own accord, using an intuitive publishing workflow that takes the "hard" out of creating and sharing in XR.
makeSEA+Catapult also serve as the foundation for custom applications requiring co-presence, enterprise security, see-what-I-see and other real-time collaboration features that make Magic Leap an everyday tool for disruptive innovation for any discipline.
makeSEA+Cataplut are an ideal supplement to other vertical applications on Magic Leap. Use makeSEA to help justify your customer's investment in Magic Leap hardware, by making it an everyday tool for collaboration and sharing on any subject matter, on-demand.
makeSEA can help customers build and refresh custom applications for as fraction of the cost of traditional XR application development, reducing the build and refresh lifecycle by as much as 100x. makeSEA+Magic Leap bring new levels of efficiency and engagement to any business that can be directly mapped to tangible, cost-offsetting ROI,
Please note this repository is a work in progress. If you would like to see other content or improvements, let us know!
Are you curious about a particular use case or PoC? We may already have one for you! Please,
Contact us.

More on the makeSEA Narrative

We are focused on enabling customers for everyday use like YouTube or Powerpoint, but for AR.

Challenges to selling Magic Leap (we feel your pain):
It requires a good solution to make it useful and allow customers to explore how to apply the tech and make deeper, cost-justified investments over time.

It's hard for customers to get their own relevant content onto Magic Leap without special resources and a fair amount of time and talent. makeSEA makes sharing and collaborating one one's own content as easy as producing a video or social media post.

We're here to help you sell units and have a ton of resources to share.
Our platform fits a broad range of use cases, from, quick and dirty to full blown apps, at a fraction of the cost of traditional app production.

We're all about enabling the customer so that they see value and make deeper investments over time.

We have learned through hard-earned experience - here's what we are tackling together:

Awareness: People don't know what they don't know
We have the broadest portfolio of demo content available for you to showcase ML2 across a wide range of use cases and functionality

Relevance - As amazing as ML is, awe is not sufficient to compel most buyers; customers must see how it applies to them, now
makeSEA is all about enabling customers to produce experiences relevant to their customers using their own content
with ease, and we have a wide range of examples to prove it

Ease of Use & Sustainability - Advanced apps are awesome, and the perfect fail because . . . they are always harder than they appear and leave the implementation teams feeling frustrated. The key to success is small, achievable, rapid wins that lead to incrementally larger investments in the hardware and integration into the business (all units are fair game!)
makeSEA cuts rapid experience dev by up to 100x, and reduces custom app dev by about 70% vs traditional apps, and makes them easier to keep current.

Very engaging makeSEA training experiences can be produced in a matter of hours —so customers can develop broad portfolios of demo and exhibit content, and maintain them, inexpensively. Couple that savings with the impact . . .

Equipment & Cost Justification - You need a Magic Leap to appreciate Magic Leap!
makeSEA offers inexpensive starter bundles designed to get the customer equipped, and with an experience outcome that pays for the hardware in the first phase, so there is immediate ROI, they are equpped for more demonstration and deeper engagement and investment in the tech with each incremental success.
In large companies this means we can equip the company to grow organically into other business units over time. . . .
With trainer and explainer apps, it is a customer-personalized experience of a limited scope (training, exhibit, demo, etc), for Inspection & Audit customers it includes training and field support.

It doesn't have to be expensive:
We have starter bundles including hardware from $8K-$15K with promo pricing as low as $5K (including a ML2!!) —Sell this as a lead into larger purchases by equipping the client and enabling us to engage with them to demonstrate immediate ROI, relevant to that specific customer that ultimately leads to additional unit sales through enablement, and by driving success-based demand.
Obviously, we are open to and able to support much larger engagements and offer discount pricing for customers with an appetite for that.
Use our small bundles to onboard hesitant or curious customers, quickly, and know that using makeSEA for advanced apps saves an enormous amount of the customers' time and money, and sets them up for success.

Customers Get:
Hardware equipped for now and future engagement
the makeSEA platform (private instance)
a useful app proving full ROI
a means to grow into the technology incrementally while demonstrating ROI with each step.
Announcements:
We are currenlty offering DEEP Discounts on our MSRP Pricing - contact sales@makeSEA.com for the latest deals and spiffs.
Update Your Catapult Installation!

- HOT New Features Released Aug 2023:
Unity SDK Training Template Released
Capture and create real world training and exhibit experiences in hours using makeScene bundles + Catapult

Audit & Inspecton workflow
Document and validate hot spots with proximal spatial markup and video capture

Realtime Chromakey (greenscreen) Video Clipping
For live, prerecorded and WebRTC video streams. Use a simple camera and snap filter or greenscreen backdrop to project humans and other real subject matter in AR space, clipped so that only the subject matter is visible and occluding of other spatial content. Videos can be positioned and auto-played, making it feel like someone is welcoming you to the space and explaining the experience. This works with WebRTC, too, and allows people to be presented in AR, in real-time with near-zero latency, as if they are there personally. This provides a new level of intimacy, personalization and interaction for selling, teaching, and other engagements. Imagine expanding a live in-store teams with additional staff during peak seasons from a remote workflorce, in AR?). For digital-twin avatars, the canvas can be set to follow the audience so that they are always the focus of attention of the explainer. This is great for sales, training, and so much more! Compare it to "holographic video": it's faster, easier, and just as impactful.
Spatial Gateways: allow you to link together a series of makeSEA Project spaces to take visitors on a journey, go through a series of stepped lessons for instruction, or choose their own adventure. With makeSEA Gateways, you can press Magic Leap devices to their maximum performance capabilities and beyond by lining together a series of experiences to teach, sell, and influence.

WebRTC: Catapult now supports WebRTC connections for remote hands and see-what-I-see workflow within any makeSEA project space. This allows projects to serve as the permanent meeting hub that notes/instructions, assets, and metadata together with spatial experiences and content, plus live real-time point-to-point and multicast WebRTC connections to other users via Magic Leap and Web browsers. For a live demonstration of this technology in action, ask for access to our private distribution of Catapult for Magic Leap inside sales, called Catapult VIP: email mlsales@makesea.com to have it added to your app list in Magic Leap World (ML1), or a private distribution (ML2).

Inline Instruction: Now makeSEA+Catapult are easier than ever to learn and use! We have added inline instruction, in AR, including introductory instructional messaging in the app on first launch, and improved inline written instructions for new Projects. Catapult also features an ever-expanding library of demo and example content, including in-AR explanations using chromakey video and digital-twin host avatars.
Reusable Broadcast Event Spaces for Public & Private Events: makeSEA+Catapult now serves as a reusable, private and public venue for large-scale broadcast events that combine Spatial content, UHD (live) streaming and 360 video and live host presenters, including real-time digital twin-avatars, for delivery to audiences of virtually any size as a live meeting event, venue, and conference space. Now customers can produce live streaming events in AR using a mix of personalized content, for company and investor meetings, team events, and virtually any sort of gathering, at virtually any scale. Contact us to learn more.
See this video example of makeSEA Events in action HERE

Other great recent feature enhancements:
Multiple User Account Profiles: setup multiple accounts for one-click sign-in - great for demos!
Guest Login Support: demo advanced capabilities with no login headaches
Follow Me (to non-Example user Projects): receive your audience then take them on a tour to, anywhere . . .
Enhanced bookshelf usability, mesh detail and performance: better asset manipulation and faster loading of large multi-part assets, show and explode detailed scematics from most any source
New Experimental Mode, Bookshelf Follow-Me: explore new features, take the bookshelf of objects with you as you stage your spaces
Want to capture digital twins using Magic Leap? Want a personal tour of makeSEA and Catapult?
Check out our ever-expanding list of examples
and media posts at YouTube HERE
[Click on the triangle to expand the section]
About makeSEA

About makeSEA

makeSEA is an enterprise grade content management platform built on top of a wold-class enterprise portal framework, coupled to our Unity based real=time collaboration app for Magic Leap, called Catapult (that works cross-platform, too).

While we often use the

makeSEA.com

Community site for demos (our SaaS offering), we have the ability to white-label the entire platform as a PaaS, and even offer standalone installations for BTO customers. This is something that no other AR collaboration platform is able to do, presently. And it's a huge differentiator in the AR space.

We're a Little More Than Fanatical About Magic Leap

We are extremely passionate about Magic Leap. It is our native and most capable implementation, and Catapult showcases features like eye tracking, occlusion, spatial mapping, and more. makeSEA highlights and complements Magic Leap's capabilities in ways that other AR collaboration platforms do not.

We Have a Grand Vision, in Magic Leap Colored Lenses

The goal of makeSEA is to enable everybody to use AR the way YouTube has for video: across disciplines, use cases, and source collateral, in an uncomplicated but highly useful way. This works great for business because it provides a universal tool to explore how to apply AR, and their investments in hardware, in a manner that is not bound by a specific discipline, or tied exclusively to using expensive supplemental software (CAD, BIM, medical, etc).

Now businesses can "micro-iterate", using relevant content. E

xperiences built using makeSEA are designed to survive and thrive as the tech evolves, giving businesses a higher level of confidence that the work has longevity, and is not just disposable the way traditional custom AR apps often are.

makeSEA can also be used to manage content embedded in more sophisticated native apps, reducing production and update cycles and allowing customers to focus on what's relevant: their own content.

Lofty? Maybe. But, YouTube has 2.3B users. They don't have an enterprise solution like makeSEA. And, we all know AR is way better than video at telling stories! We all want that "first-hand experience" AND to tell our own story. That's makeSEA!

Avoid Becoming A Paper Weight Through Engagement

MakeSEA gets Magic Leap owners immediately invested in using their device for more than just being a passive observer, and engages them to be content producers -contributors- right out of the box.

We would love to work with you on a campaign to help educate new Magic Leap owners about this (free) opportunity, as we believe it gets the user more engaged in the long-run. And ultimately, they become evangelists.

It Takes a Village

When makeSEA is bundled with a new customer purchase, we take on some of the responsibility of enabling customers to become invested in the platform. With real work and engagement, and to help them to be successful building experiences that increase there buy-in on Magic Leap, and drive additional unit sales and software subscriptions.

Margins are Grrrreat

Small makeSEA bundles are easy to sell and large bundles have fantastic reoccurring revenue. Our SKUs are extremely scalable, which translates to more Magic Leap revenue on the software and subscription end.
Why Sell makeSEA

Why makeSEA is the Perfect Complement to Magic Leap

makeSEA is the fastest way to publish content to AR, and keep it fresh. And can reduce the production workload by 10x-100x for the most common use cases -defensibly- as compared to traditional workflows.

To prove it, this video shows me publish to Magic Leap in <90 seconds (well, there's a little lag while I jabber) —but, you'll get the point. That is our simplest out-of=the-box workflow, but there is so much more the platform can do.

More important, people want to talk about themselves. makeSEA makes sharing and collaborating with one's own content as easy as a social media post, using Magic Leap the instant the box is open. And also, do so using content customers are already producing, but in a novel and powerful new way.
Suggested Markeiting Funnel & Campaign Workflow

Suggested Marketing Funnel & Campaign Workflow

We recommend creating one or more Sofos.aio campaigns for each sales person, targeting discrete verticals. Each campaign costs $100/month/campaign, plus $79/mo for the requisite LinkedIn account level. We have a working relationship with Sofos, please allow us to help establish these campaigns with you for better results.

Each campaign consists of 4 brief messages distributed over several days, targeted at specific audiences that Sofos helps you to select. You only engage with users that actively reply Those who accept your contact become your audience for future posts on LinkedIn.

A good campaign will produce Contact acceptance >%25. The active response rate is typically >6%, about half of these are fully qualified leads to pursue (3% average qualified lead response; very little effort). Contacts become farming leads. Sofos supplies private email and contact info for many.

It is recommended that you make at least 3 subject matter expert posts per week across all social media outlets (LinkedIn, Facebook, YouTube, Instagram, Twitter, YouTube where applicable). And also subscribe topical groups and like/post/respond others to establish a persona. It's a small community and there is room to influence.

The most effective posts are typically of YOU, talking about something interesting in a brief video segment. Substance and your personality matter way more than production quality.

Qualified leads turn into demos, then typically, personalized demos, which turn into (some paid) PoCs and purchase deals.

Upcoming Flagship Events:

We have a booth at Exhibitor Live in Vegas this October 31 through November 3rd- want to play?

What isn't Currently Working

Google Ads, Click Ads, Banner Ads
Sales Collateral

Marketing & Sales Collateral

There is a wealth of sales collateral available for you to use in print and electronic format.

The value proposition for makeSEA is enormous. You can find the most compelling messaging and information directly on our Home Page, and using the navigation at the top, or the tiles at the bottom of the page (links to details by discipline and use case).
How to Demo makeSEA+Catapult Live

How to Demo makeSEA

IMPORTANT: Online streaming quality matters in demos! The Lab application by Magic Leap can provide reasonable live streaming from the device during webcasts and meetings by sharing your screen. (We still recommend recording from the device for best results where playback later is possible). However, your webcast/conferencing tool of choice matters! We have found through trial and error that the conferencing platforms with a native client app do best (both ends), especially at streaming from the lab and a camera simultaneously for better effect.

This means don't use Google Meets for critical live demos where you intend to show your device perspective live, first-person (sorry Google, but you don't handle multiple angles or full-screen video well). GoToMeeting (no affiliation), has provided the consistently best streaming experience, though, it is less popular with some end user clients because of the client install requirement. It does also make it easy to record and share with others. Microsoft Teams works OK. Zoom is less good at frame rate and compression. BlueJeans is less commonplace but appears to work OK.

There are several ways to use makeSEA and Catapult to effectivley demonstrate the incredible benefits of Magic Leap:

Create a project on-the-fly and demonstrate how easy it is to publish and share content.

or

Use the included Example and Demo experiences that are included.

or

Create a video from the Magic Leap using Catapult to record and share with others.

or

Engage with us to provide PoCs for customers as well as special demonstration capabilities like low/no Internet

How can we help you to close business?

We love to blow customer's minds by demonstrating their own content - please let us help!

We are happy to participate in any demo to help MC/drive the experience while you sell, and to help demonstrate the multi-user capability.
Catapult Example and Demo Experiences

Catapult Example Experiences

Catapult includes a number of prebuilt demo scenes designed to provide a range of use cases, to demonstrate the various features of the device, and also to point out that compelling experiences can be produced from existing and easy to produce resources, as opposed to only targeting studio-grade produced content. The point is to drive home that these scenes were built from content not destined for AR, but that tell a better story in AR and with Magic leap.

The point is to drive home that customers can begin using this technology now and mature into more sophisticated experiences as they understand what works best for their needs (the opportunity is limitless - makeSEA makes it easy to experiment).

For customers that are seeking more sophisticated examples, we are able to deliver prebaked makeScene bundles, which can contain prebaked lighting, animations, interactions and other rich experience content.

Behind all of these examples is the makeSEA content management system that makes it possible to update content and experiences over the air, without pushing an entire application build to the device. Like any good platform, content can be customized based on user identity, role, enterprise data, etc.

IMPORTANT: Take the time to eye-calibrate your device. Some of the advanced manipulation controls in the demo scenes use eye tracking to know what it is that you what to move. If the eye tracking is off, some features may behave irradically.

The following Example scenes are available pre-built in Catapult for demonstration (Login -> Back to Main Menu -> Examples):

IMPORTANT: These projects are public and the communication channel per-scene. Anyone can join. These examples also use Internet connectivity to operate and provide muti-user collaboration. The example scene content is pre-cached, except for some live video sources that are intentionally cached or streamed on-demand. It is possible to demonstrate Example scene content offline, pre-cached, without a connection. If you need an offline demo, or a "No Internet" collaboration demo, please contact us for assistance; we can help and may supply additional collateral for your needs.

How to use Catapult
(AR, miscellaneous objects, video streaming, basic Catapult feature demo)
Transforms: individual objects

This scene is provided as a quick reference and emo of the basic functionality of Catapult and includes a paginated bookshelf of objects and vide samples to help demonstrate the basic features of makeSEA: sharing and transforming objects, playing video, visiting live with others, and saving spaces for recall. This project can be used as-is, or the assets can be downloaded and a new demo project created with the same collateral to provide a reliable, real time demonstration of content publishing using makeSEA. It is a good introductory and jumping-off point to other Example scenes and content.
Demo Notes:

Take time to align everyone with the Anchor image if together for a fully synchronized live experience.

Make sure you are Master of Ceremonies (MC) under the main menu --if not, takeover before proceeding (first one in is MC by default)

Note to your audience how you can all see and hear each-other (is your mic on and volume up?).

Notice that you can move objects 3 different ways: By placing the controller inside the object, pulling the trigger and dragging. By simply looking at the object and using the Control Pad transforms (HINT: this is eye tracking that can be used to trigger other interactions! - push/pull to transform, circle to rotate, swipe up/down to raise lower, swipe left/right to scale down/up). Or, by using the traditional Magic Leap Laser+Trigger Control convention (turn on your laser with the bumper). A fourth way, using your hands, can be demonstrated by turning on that feature under settings; it is off by default.

Move the objects off off the bookshelf for your audience. Rotate them, make them bigger, have them move around the objects.

Go to page 2 on the bookshelf - show off the wind turbine. Make it bigger and have your audience look inside. Note the animation.

Explode the wind turbine.

Turn off the labels by clicking on the main title.

Note that objects can have information blooms.

Grab individual parts with your trigger and explain how you can pick it apart.

Return the model to a whole object. Click on the house on the bookshelf to return all objects to the shelf.

Conjure a screen video and explain the benefits of displaying video at any scale, an any convenient location, prerecorded, or live streamed --everyone sees what the MC shows. Note the benefits of this for instruction, demonstration, selling, training, remote hands support, etc.l

Feeling brave? Turn on Hand Gestures under Settings and you can grab, manipulate objects with your hands (hand occlusion is also visible)


House on a Lot
(architecture, outdoor simulation, life-scale, immersive, surround video)
Transforms: House

A real life architectural model (low texture), combined with 360 Surround video to simulate on-site placement.
Demo Notes:

Notice the video is streaming (cows and sky and cars are moving).

Note that surround video can be streamed from live source or easily captured with a $400 camera

Move the house to you, and note that you can experience the floorplan from inside and even experience the simulated outside view from various locations.

This same house model can be experienced tabel-sized for design/planning, and full-size, on an actual lot location for actual walkthrough.

We are working on adding an enhanced house model to this demo.


MC Infrastructure
(AR, building infrastructure, indoor, CAD sourced, use with occlusion and clipping)
Transforms: entire model

This experience contsins a 50K square foot heating, cooling, electrical, and plumbing infrastructure for an actual commercial remodel of a convelescent home building in the los angeles basic by Muir Chase Plumbing.
The design can be expeirenced at life-scale.
Explain that this application can be used for design, to look for conflicts pre-fab, to check for corrwect placement by various contractors over long periods of time to avoid surprises, and for reference once the building is buttoned up, for maintenance and retrofit.
Demo Notes:
Have your guest toggle on/off their occlusion setting under the main Settings menu to demonstrate how Magic Leap will detect and repsect the real world spcae and only show what is not occluded by the real world - again, a great way to look for conflicts and right fit at install time.

345 E. Ohio Matterport
(Immersive (some AR through open spaces), Architecture, Remote hands, Digital twin, Matterport sourced)
Transforms: entire model

This is a large scale immersive walkthrough of a digital twin model produced with a Matterport camera. Catapult allows users to experience digital twin models from Matterport, iOS devices, LIDAR scans, Photogrammetry and other sources first-hand as if there in real life.
These experiences can be enhanced with 3D models, vidoe (including bi-directional 3D livestreams and surround video), animation, guided and stepped lesson instruction, user interactive gesturtes and other functions to create extremely sophisticated apps on-top of the Catapult engine, with co=tent that van be updated and kept fresh via makeSEA. This is perfect for training and instruction, safety operations, remote hands support and more.
Demo Notes:

Trade Show
()
Transforms: entire model

Heating & Cooling
()
Transforms: entire model

Boiler Room Matterport
()
Transforms: entire model

MOXI AB
()
Transforms: entire model

Leica Rocky's Bar Crime Scene Scan
()
Transforms: entire model, trajectory rods, scene markers, playable cameras

Lwihberr-LTM1500
()
Transforms: entire model

Boeing 747 airplane
()
Transforms: entire model

Rockets & Such
()
Transforms: entire scene

Doc Burnstein's Countertop
()
Transforms: ice cream cone (above cashier, in sky)

Catapult Private Demonstration Experiences

Note that example scenes are public - anyone can join. Demo experiences are restricted by audience. Your users may need to be added to the Project to gain access. These demo experiences typically have a matching Project space in makeSEA that contains the related scene content and provides additional talking points on the content management, file sharing and traditional file sharing features of makeSEA, in addition to AR: makeSEA is a better place than GoogleDocs, Dropbox and GitHub to curate all of the loose collateral relating to any given Project Experience, and to keep track of the attribution and changes as they evolve over time.'

Don't forget to mention that makeSEA and Catapult are available as a white0label platform that can b e branded and customized to meet the specific need s of your customers, and can help reduce the production and refresh time for their apps by 1 or two orders of magnitude in time savings (10x-100x!!) - we can prove it!

(AR, customer supplied content from CAD, table-scale, on-site simularted, on-site real-world, mixed collateral)
Transforms: individual objects, standard video, surround video)

This demonstration incorporates customer supplied content and demonstrates how industrial designs can be visualized at table-size, and real-world size using the same assets. It shows how the platform can be used to curate all of the related collateral for the subject of the Project. And it shows how users can observe content in the real-world, as well as the simulated real-world using 360 surround video. The demo video also includes some visuals sourced from a Matterport scan. The 3D asset shared in this project took minutes to produce.

Demo Notes:

Grab the asset off of the bookshelf and explain how it was sourced from CAD (Revit, we think?).

Scale and manipulate the model and use the laser to explain how it can be used for collaboration

Place and play the video screen to demonstrate how the collateral can be used:

The video

The asset at various scales

The ability to visualize the model in the office, on-site, and simulated on-site

Mention the ability to embed "stitched lesson steps, which can direct the user to various locations, trigger an instruction or interaction and audit the user's resulting actions, for training, etc.

Play the 360 surround video, and begin manipulating the model to become full scale in the surround scene

Mention that makeSEA helps customers establish a workflow that is compatible with their existing production methods and we provide guidance on how to produce assets from existing designs with no or minimal processing (varies by source). Mentions that makeSEA claims production times are reduced anywhere from 10x-100x depending on the experience and production workflow.

A day in the life of my fish

A lovely place to meet

Capture Sandbox

Human Skeleton -may crash device if not first scene loaded

Genesis Exhibits --video screen in makeScene is inactive; use in-object transforms (trigger) to move scene

Simpac Demo --scene 5.0 is open machine, 5.1 is buttoned up; recommennd displaying only on at a time

Livestream Video Reflector??

. . .
Training Webinars

(tentative)

The following regularly schedlued and open attendance sessions are suggested:


Intro to makeSEA and Catapult for Magic Leap

(Webinar format, 30 minutes, regular intervals available or on-request for new hires)
This is intended to be a quick primer on makeSEA, demo the basic features, and explain the benefits to selling including offers for sales and PoC support.


How to use makeSEA to sell Magic leap

(Webinar format, 60 minutes, regular intervals available or on-request for new hires)
This is to show advanced features and demo content that can be used to highlight Magic Leap capabilities and supplement the value proposition during the sales cycle.


makeSEA Workshop: Get assistance staging content for any demo or to discuss special demo requirements

(60 minutes, open Calendar reservations)
Attendees can bring their own content/use case for assistance staging in Catapult for demos or to request assistance with a PoC that may benefit from special handling. Our goal is to provide a working demonstration using makeSEA that helps to compel the customer using content that is relevant or even supplied by them.
Tell us how to help you compel your customers:
we will do a free PoC like the Aramco Magic Leap PoC Project to support any sales cycle. We love working with customer sample content and blowing their mind with their own materials!
Remember, the entire makeSEA content management platform, and our XR client app, Catapult, can be white-labeled, including for Magic Leap inside sales.
In the past we have cooked special versions of Catapult for use by a Magic Leap sales team (legacy), that are designed to help manage issues like poor connectivity or no connectivity and caching, etc. A lot of those features have worked their way into our normal product. But, the point is that we can help with some of that in a sales tool version of our general release, if it is of benefit. I can explain more in a conversation, but there are all sorts of issues that we can help solve in the sales cycle and just need to agree on what is actually required (the old stuff collected dust). For example: need to demonstrate multi user capability with no Internet —yeah, we can do that.
We have also devised methods for rapidly producing and staging customer demos and POCs in a manner where we can drop-ship a unit to the customer and provide them a demo in-headset. It is extremely effective. We can share what we have learned works, doesn't work, etc.
Back
AES with Tower thumbnail 250x250.jpg
AES with Tower thumbnail 250x250.jpg


Uploaded by Chris Stavros, 8/25/23 5:15 PM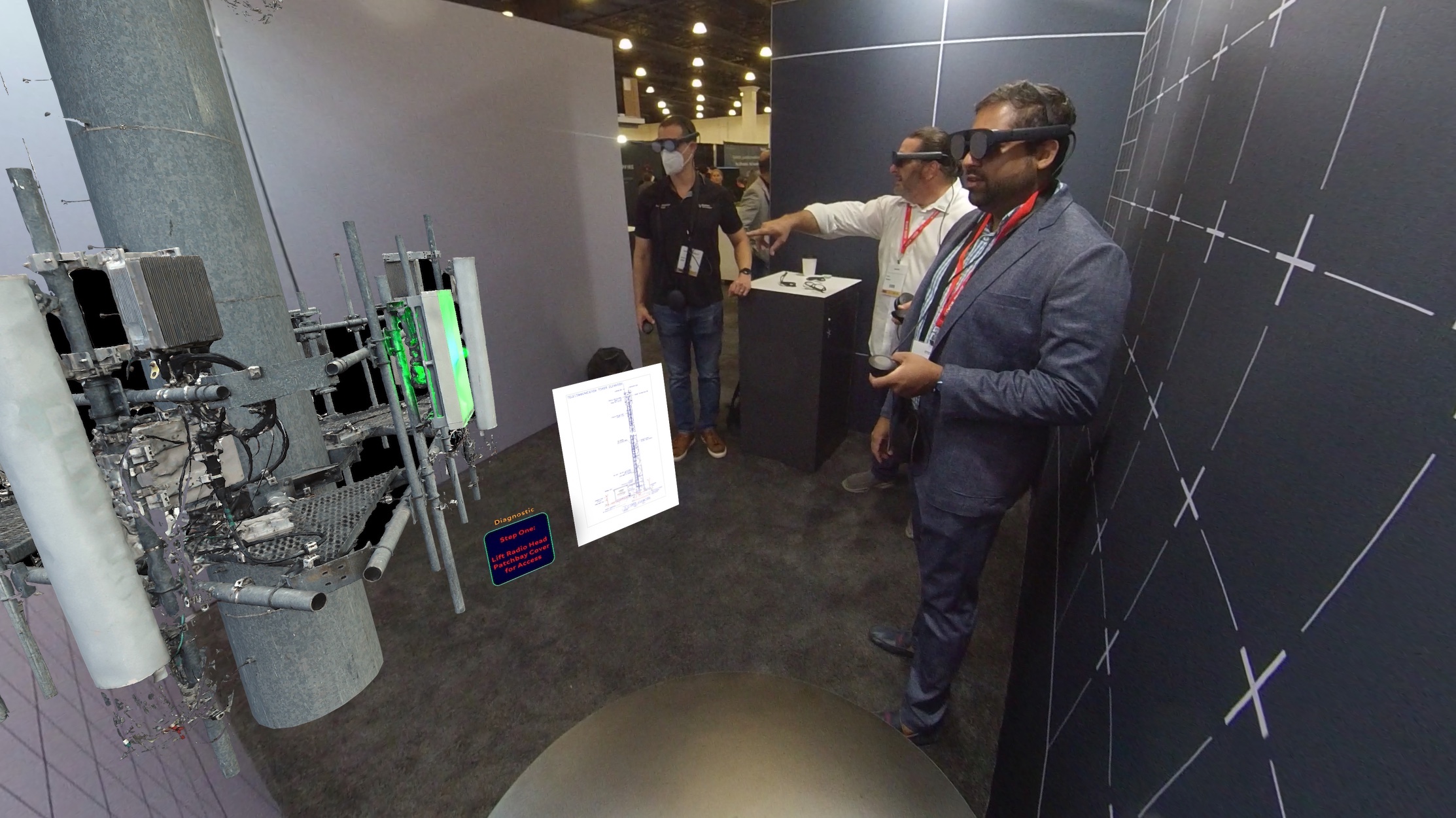 Version 1.1

Download (730k)
Get URL or WebDAV URL.
| Version | Date | Size | |
| --- | --- | --- | --- |
| 1.1 | 3 Months Ago | 730k | |
| 1.0 | 3 Months Ago | 730k | |
| | | | |